Skin Allergies
Allergic skin reactions are quite common but it can be difficult to determine what causes them. Possible causes of irritated skin can be caused by many possible factors, including: immune disorders, medications and infections. When an allergen triggers an immune system response, then it is an allergic skin condition.
Allergic Contact Dermatitis and Patch Testing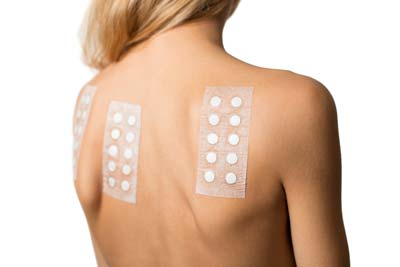 Once in contact with skin, patients with Contact Dermatitis type of skin allergy may develop a red, bumpy, itchy rash and some swelling at the contact site. Some people have skin allergies to certain metals, like nickel, or gold, which are present in jewelry. Chemicals in cleanser, cosmetics, and sunscreen may also cause allergic contact dermatitis. We can identify the allergen using skin patch testing. With patch testing, small patches are taped to your back, and the patches are removed after two days. Your skin is then examined in the office for signs of inflammation. Two days following patch removal, you return for a final visit to examine your back. Patch testing visits typically occur on a Monday, Wednesday, and Friday.
Eczema (Atopic Dermatitis)
Eczema, or atopic dermatitis is a very common condition- especially in children. The exact cause is unknown, but thought to be linked to the body's immune response to an irritant or defects in the skin barrier. "Atopic" refers to a group of diseases, often with an inherent tendency to develop other allergic conditions such as hay fever, asthma and food allergies. Some food sensitivities can make eczema symptoms worse. Eczema often occurs on the face, back of the knees, hands, wrists and feet. Symptoms almost always including itching, and skin on the affected areas may appear dry, thickened and scaly. Unlike with urticaria (hives), the itch of eczema is not caused by histamine, and anti-histamines will not control the symptoms.